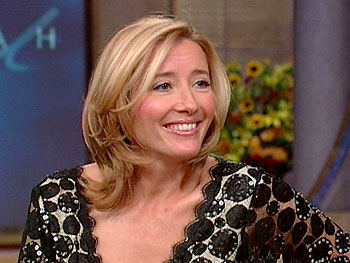 Actress Emma Thompson told yesterday how she was moved to tears by the plight of Aids victims in Ethiopia.
The Oscar-winning star visited the country on a fund-raising visit for the charity
ActionAid.
Emma, 45, spent a fortnight in the country, devastated by famine and now gripped by an
HIV and Aids epidemic.

She said meeting the country's prime minister Meles Zenawi humbled her.
he said: 'He thanked me for taking time off from making millions of dollars. I told him he was overestimating my earning capacity.'
The actress, who became an ActionAid ambassador last year, said she had also been amazed by the determination of a people intent on helping themselves.
Emma, who has a five--year-old daughter Gaia, said: 'A 17-year-old girl told me how her mum had died from HIV.
'On the day she died, the teenager went out to look for people who used to be her mother's friends but they all refused to bury her.'
The star, whose films include Howard's End and Love Actually, was delighted to discover schoolchildren being taught the facts about HIV.
She said: 'They all know how it is transmitted - even the little ones - and it is such a relief to hear and see them discussing it so openly.
sundaymail
"These people are not just the have-nots, they're the haves as well. They have resilience, the like of which you or I could never dream of. They have commitment, drive, grit, they have intelligence and they have ideas,"
said Emma.
ActionAid's Head of Individuals Marketing, Imelda McGuigan said:
"Emma spent time with the community explaining what it was we were trying to do. She asked them how they would like to be represented, what issues they wanted to highlight and who they wished to speak on their behalf. The result is a moving, yet positive appeal with 100 per cent involvement from the community."
One of the villagers, who featured in the commerical, Fanaye Woju said:
"Our pregnant women used to walk miles to reach hospital. Many gave birth on the way. Now, thanks to support from ActionAid, our women are training as midwives."
Emma has been an ambassador for ActionAid since 2001 and has spoken out publicly about her support for the work the charity is doing, in particular, to address the HIV and Aids epidemic that continues to sweep across Africa. She has travelled to Uganda, Mozambique and Ethiopia to find out what poverty means for men, women and children and the steps they are taking to overcome it.
ActionAid is part of
MAKEPOVERTYHISTORY
– the largest coalition ever assembled in the UK – which is calling for an end to global poverty. Over 200 charities, trade unions and celebrities are demanding that world leaders deliver trade justice, debt cancellation and more and better aid.
VISIT
www.emma-thompson.net
; MAKE Poverty History.